Give Online
Organize an Event
Host Your Own Event

Legacy Giving
Do you want your generosity to impact Green Berets and their families for decades to come?  For more information about Legacy Giving and how it can benefit you, please call us at 210.775.0108 or email info@greenberetfoundation.org.
Investment Giving

For more information, call us at 210.775.0108 or email info@greenberetfoundation.org
Donate by Mail

Green Beret Foundation
14402 Blanco Road, Suite 100
San Antonio, TX 78216
Other Ways to Support
Amazon will donate 0.5% of the price of your eligible AmazonSmile purchases to Green Beret Foundation whenever you shop on AmazonSmile. You can select a charitable organization after signing in. AmazonSmile is the same Amazon you know. Same products, same prices, same service.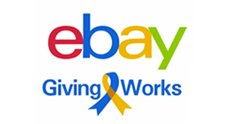 Through eBay Giving Works you can support the causes that matter most – to you – by buying and selling on eBay. We help nonprofits connect to over 145 million eBay community members to raise money.

CFC is the world's largest and most successful annual workplace charity campaign, with almost 200 CFC campaigns throughout the country and overseas raising millions of dollars each year. Pledges can be made by Federal civilian, postal and military donors during the campaign season (September 1st to December 15th) to support the Green Beret Foundation.
PayPal Giving Fund is an IRS-registered 501(c)(3) public charity (Federal Tax ID: 45-0931286) that uses PayPal technology and financial support to fundraise for causes, without charging donors or charities for our services. Make your donation via PayPal Giving here.
Green Beret Foundation partners with DonationLine.com, a Vehicle Donation Charity fundraising agent, that helps individual vehicle donors seeking to support non-profit organizations around the country. Donate your boat, truck, RV, Jet Ski or snowmobile to our organization and receive a tax deduction. This is a no cost, no hassle process which begins when you contact Donation Line LLC. at 1-877-227-7487. Make sure to ask for our extension #2583 or click here, Donate Your Car Now, and complete the Vehicle Donation Form online.